Director of Operations
       Todd Melton
Todd was one of the founding team members of Ambassadors to the Nations in 1992. He traveled full time for 10 years as a drama team leader,known to the nations as "Poncho" the clown. Todd has traveled to Dominican Republic, Mexico, Nicaragua, Costa Rica, Guatemala,El Salvador, Honduras, Haiti, and Cuba. He also serves as the youth and children's church pastor at Freedom Christian Center. Todd has been a vital part of Freedom Ministries since 1984. He left to get a degree at Belmont Abbey College in Education and became a teacher at Gaston Christian School . He and his wife adopted 5 children and now are the parents of 6 wonderful children. Todd is very excited to return as Director of Operations of Ambassadors to the Nations.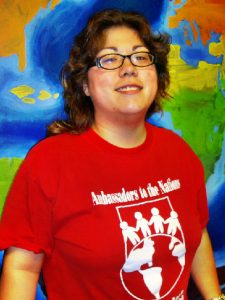 Public Relations & International Correspondence
Dawn Auble
She started attending Freedom Christian Center after listening to Andrew Wommack on TV. She first attended our Annual Camp Meeting at Freedom Christian Center with Andrew Wommack and then fell in love with our church. She has been working and traveling with Ambassadors to the Nations for many years. She takes care of all the children's correspondence with their sponsors and general relations with our partners.
Administrative Director
Rosella Martin
is a graduate of Charis Bible College in Charlotte. She moved to Concord, NC in 2012 and joined Freedom Christian Center. Upon graduating Rosella became the Minister of Helps for FCC and started volunteering for Ambassadors to the Nations.
National Director in Nicaragua
Daniel Ortega
He is the Pastor of Mision Cantico Nuevo and a high ranking official in the Nicaraguan government. He manages our entire operation in Nicaragua.
Warehouse Volunteer
Katherine Murray
Katherine is a graduate from one of our schools in Managua, Nicaragua. Katherine got married and has 2 beautiful girls and is now living in the United States.She volunteers her time to assist with the packaging of products to be shipped to the different countries we support. Katherine is a vital part of our ministry team traveling to the nations.
Warehouse Manager
Donna Hand
Donna started volunteering for our ministry and now is a staff member. She handles our shoe projects and our Care boxes and anything else we ask of her. Her life has completely changed since she started volunteering with us. We have enjoyed seeing all the awesome things God is doing in her life.
Not pictured but equally important are:
Data Entry Volunteer
Melissa Melton
Public Relations Volunteer
Brandon Melton