Our Mission
Ambassadors is an international missions ministry based out of the Jolley's home church in Charlotte, North Carolina, Freedom Christian Center, Inc. Their missionary work focuses on meeting the most impoverished communities' physical and spiritual needs in Central America and North America through short-term mission projects.
GIVE A CARE BOX
Three times a year, we give our supporters the opportunity to send Care Boxes to the children they sponsor at one of our four schools in Nicaragua. For about 95% of our students these are the only gifts they receive every year.
SPONSOR A CHILD
Not one penny of your money goes to pay American salaries; all funds go directly to the field! The individuals that receive sponsorship on a monthly basis use the money to buy food, clothes, water, private school and medical needs.
BECOME A VOLUNTEER
If you are looking for a way to touch lives with the hope of Jesus, consider volunteering with us. Ambassadors to the Nations package and distribute thousands of small toy gift bags, care boxes, prison bags, medical bags, shoes, etc to poor children in Nicaragua, Mexico, and Cuba. Please join us in our endeavors and together we can change peoples lives with the Gospel.
Featured Campaigns
Campaigns That Need Your Immediate Help.
Easter, Birthday & Christmas Care Box information: Three times a year, we give our supporters the opportunity to send Care ...
17.52% funded
In Progress
Goal: $100.000,00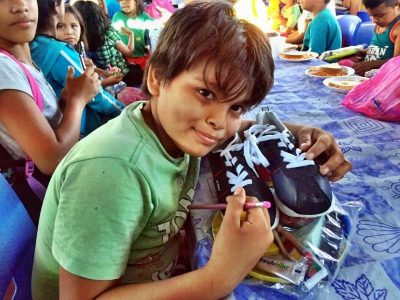 In 2009, our ministry was given 2000 pairs of new shoes "free" to take to the nations we work in. We were ...
21.64% funded
In Progress
Goal: $25.000,00
Give hope and love to a child in need.
We have a call, a purpose, that burns in our hearts to provide for the children's needs by feeding them physically and spiritually to achieve the Great Commission and helping them become a better person spiritually.
Over 25 Years of Caring and Changing Lives Around the World
25 Million+
Children Fed Over 25 Years
10
Schools Built in (Nicaragua, Mexico, & Philippines)
150,000
Pairs of Shoes Donated Over 25 Years
1 Million+
Care Packages Distributed Over 25 Years
1,000
Student Graduated Over 10 Years
350
Houses Built Over 10 Years
OUR PROJECTS PER REGION & COUNTRY
meet our volunteers
What our volunteers say about the Ambassadors To The Nations.