GREATER THINGS STILL TO BE DONE
In 1990, on our first mission trip to Nigeria, Africa, the Lord spoke to Karen, "Does anyone have compassion or care for my people?" Karen responded, "Lord, I do." It was then that the Lord spoke to us to give our lives up for the Nations. In 1992, the Lord called us to full missionary work and gave us Ambassadors To the Nations. Pastors Darey & Karen have been taking mission teams, building churches, schools, medical clinics, and more in Nicaragua, Mexico, Philippines, Cuba, Nigeria, and many other countries. We take to heart the scripture in Psalms 2:8 and try our best to see this come to pass in the lives of the people we work with.
"Ask of me, and I will give thee the nations for thine inheritance, And the uttermost parts of the earth for thy possession." – Psalms 2:8 (ASV)
"Would you be willing to radically change your lives for the sake of My people?" That was the question the Lord asked Pastors Darey and Karen Jolley twenty years ago. The Jolleys was willing and agreed to follow God's plan, and as a result, Ambassadors to the Nations (Ambassadors) was founded in 1992.
Ambassadors is an international missions ministry based out of the Jolley's home church in Charlotte, North Carolina, Freedom Christian Center, Inc. Their missionary work focuses on meeting the most impoverished communities' physical and spiritual needs in Central America and North America through short-term mission projects.
The Jolleys have launched in Nicaragua four Pre-school/kindergarten programs through eleventh-grade schools in Nicaragua. The ministry has also established churches and medical clinics.
Andrew Wommack's Endorsement and Support
Our heavenly Father is faithful, and as always, He had a plan in place to meet the Jolley's growing financial need. Andrew Wommack, a longtime friend of Freedom Christian Center, approached Darey and Karen at their church's annual camp meeting and expressed his desire to help them with their ministry.
In only a few short months after Andrew's endorsement, Ambassadors to the Nations tripled in size. Today, Andrew continues to speak about the Jolleys and Ambassadors to the Nations, always highlighting their Child Sponsorship Program. This is a program in which a ten-dollar monthly contribution is made in a sponsored child's name. The funds help provide education, food, clothing, school supplies, medical needs, and more for the children to whom the Jolleys minister.
In addition to speaking on their behalf, Andrew has invited Darey and Karen to travel to his Gospel Truth Seminars and set up an Ambassadors ministry display table. The Jolley's ministry has gained tremendous exposure working with Andrew Wommack Ministries (AWM). Andrew has personally given thousands of dollars to fund the building of new schools, churches, and homes for those in need in Central America and Mexico.
Our Mission
The Jolleys were excited to share with their partners that 2017 was their biggest year in missions to date, "God has proven to us that nothing is impossible with Him," the Jolleys said. "We declare that greater things are yet to come and greater things are still to be done."
Feed The Children
"The Great Commission demands we reach the children! They are at the very center of God's heart!"
We have a call, a purpose, that burns in our hearts to provide for the children's needs by feeding them physically and spiritually to achieve the Great Commission and helping them become a better person spiritually.
Educate The Children
We have a call, a purpose, that burns in our hearts to provide a solid education to the children both academically and spiritually. And we can only achieve this with your contributions and support. A full 100% of your donations go towards the child's education, clothes, private school, teachers' salaries, school supplies, and medical needs.
CARE BOXES
Three times a year, we encourage our supporters to send Care Boxes to the children they sponsor at one of our four schools in Nicaragua. For about 95% of our students, these are the only gifts they receive every year. They look forward to receiving the gifts from their sponsors the three times we ship containers to Nicaragua.
Our Staffs & Volunteer
Darey and Karen Jolley
Daniel Ortega
He is the Pastor of Mision Cantico Nuevo and a high ranking official in the Nicaraguan government. He manages our entire operation in Nicaragua.
Todd Melton
Todd was one of the founding team members of Ambassadors to the Nations in 1992. He traveled full time for 10 years as a drama team leader, known to the nations as "Poncho" the clown.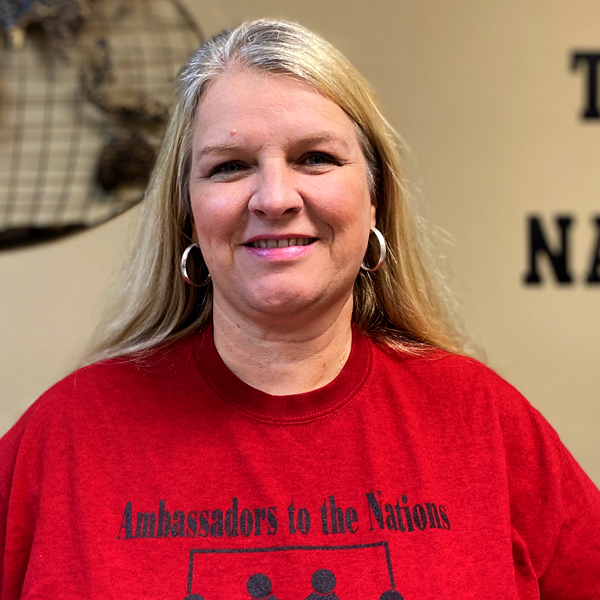 Melissa Melton
Rosella Martin
is a graduate of Charis Bible College in Charlotte. She moved to Concord, NC in 2012 and joined Freedom Christian Center.
Dawn Auble
She started attending Freedom Christian Center after listening to Andrew Wommack on TV. She first attended our Annual Camp Meeting at Freedom Christian Center with Andrew Wommack and then fell in love with our church
Jenette Crawford
Volunteer